SCB Future Leader Challenge (SCBFLC) - Siam Commercial Bank & Sasin Graduate Institute of BA of Chulalongkorn University
Siam Commercial Bank & Sasin Graduate Institute of BA of Chulalongkorn University
---
SCB Future Leader Challenge (SCBFLC) is Thailand's first business case competition for master's degree students. The history of SCBFLC goes back to 2014 when Siam Commercial Bank and Sasin Graduate Institute of Business Administration of Chulalongkorn University has joined hand for a commitment to promote learning and develop the potentials of next-generation leaders. The competition is fast-paced and a real-life learning platform for students. Participants will be challenged by a team of judges including top business leaders, industry experts and academic professionals. Not only will there be a chance for students to boost their career opportunities and grow their global network of contacts, but there is also a prize of over 6,500 USD in value to be won.
For the first time in 2016, SCBFLC had been granted with the most prestigious award of all, H.M. King Bhumibhol Adulyadej's award. With such an honor, the value of the prize has been taken beyond the domain of monetary value.
Our Commitment
To provide a practical learning platform by using dynamic business case issue faced in the real world.
To promote a strong and long term relationship between academic world (universities) and industries.
To promote cross-cultural exchange and Thailand tourism industry.
Competition Format
The whole competition will be conducted in English.
The competition is divided into 3 rounds:

Preliminary round (online)
Semi-final round (SCB Tawanron Training Center, Chonburi)
Final round (SCB Talad Noi, Bangkok)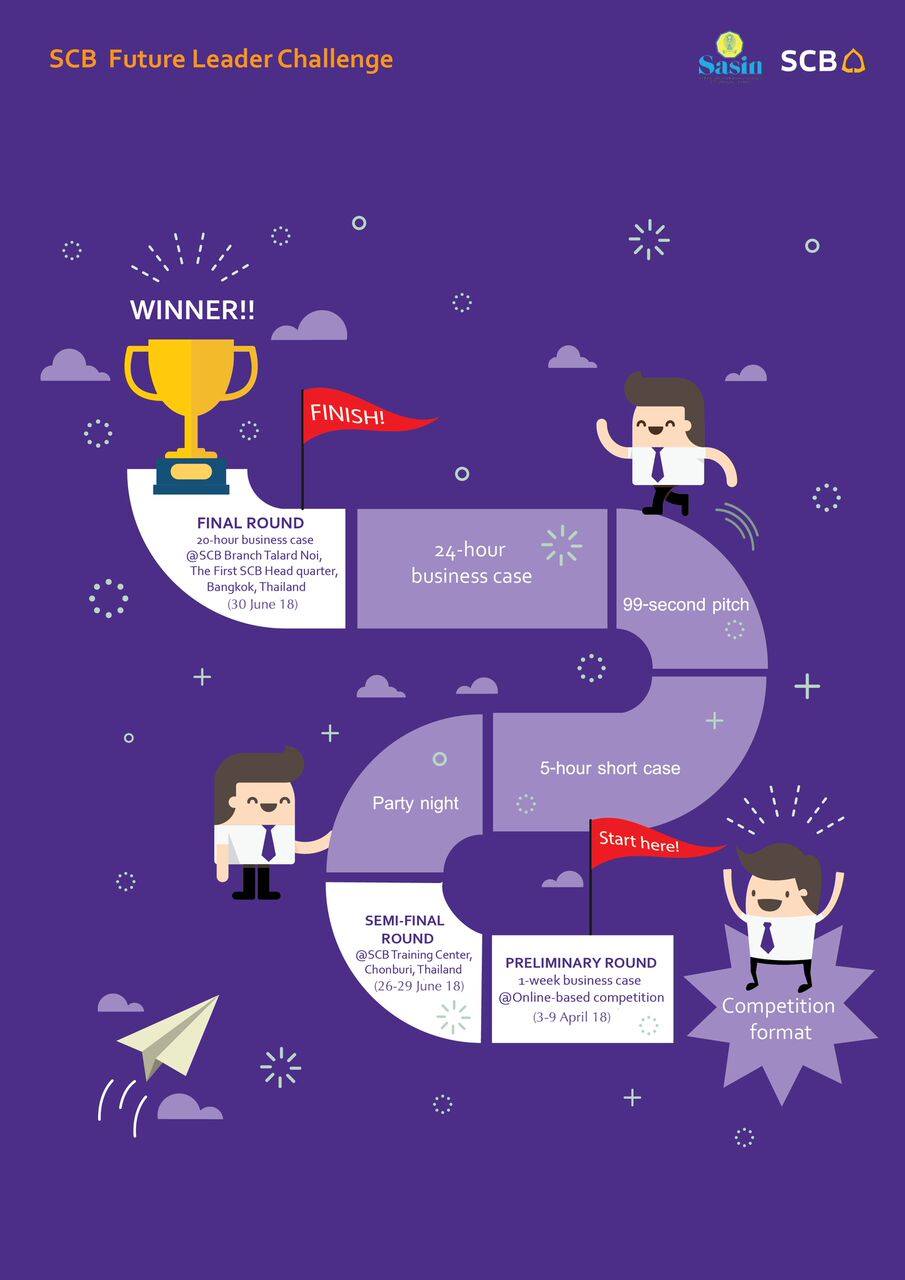 Team Composition
Participants must form a team of four members.
Team members must be currently enrolled master's degree students or a combination of up to one alumnus (graduated within 1 year from the registration deadline).
Team members must be from the same university/college.
No more than five teams per program may enter the competition.
Any participants that competed in previous year's SCBFLC semi-final round are not eligible for this year's entry. However, advisors from the previous year may attend the semi-final and final rounds.
Team members must remain in their original groups throughout the competition
Prize/Award
The competition offer Cash prizes over 6,500 USD H.M. The King of Thailand Award. This would be a great opportunity for students to visit Thailand and to challenge themselves. SCBFLC offer full accommodation, 24-hour food service and transportation for all semi-final teams.
Application
Applicants are certainly encouraged to submit an application proposal to our acquisition team at http://www.scbflc.com/apply-online/ now opened until 30 March 2018.
Preliminary round will be an online competition during 3 - 9 April 2018
Semi-final and final round will be during 26-30 June 2018 in Chonburi (only 12 selected team)
Cơ hội để dấn thân
Kỹ năng Khám phá ngành nghề Góc chia sẻ